Magazine Avalanche!
The first step.
Mike asked me to get my stuff under control. I have a room full of fiber. You are saying yeah sure. Some day I will show it to you. One of our friends looked into my crafts room and simply said "intense".
I am trying to find a place to get some of this wool processed. The local mill is backed up until next January. So I am looking for ways to use this bounty of wool to its best advantage. I am thinking felt. Felt uses alot of wool and doesn't have to be free of vm like it would for spinning. I am considering selling felting kits. Make a prototype of a piece and sell all the wool colors needed.
One of my felted pieces. "Lotus"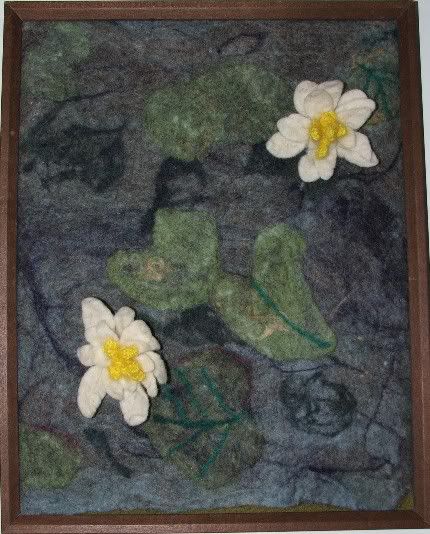 Last night I moved something on the piano that serves as a giant bookshelf. The magazines fell to the floor. I took a photo of them lying there, almost like a display. Crochet World back issues that have some gems of design in them. That is why I still have them. The gems are mixed in with the church bazaar type of acrylic crochet that brings to mind toilet paper covers shaped like a southern belle. I should just cut out the good stuff and give away the magazines.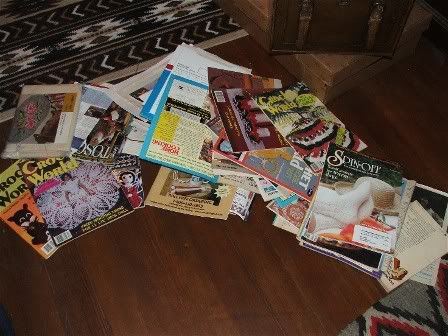 The magazines are now on the bookshelf, and the books are on the piano.
The piano has to go back to being a piano, not my bookshelf. This is where the journey part comes in. Mike is willing to compromise, he hates clutter. I don't even see it as clutter. The first step is to move my overflow of stuff back to my studio. It has taken over every corner of the house.
On our trip Mike and I discussed what would make him happy. He would like to feel less cramped for space because of my fiber stuff. I live in a huge house, and it is full to overfloweing with fiber, books, tools, three spinning wheels etc. etc.
Mike and I are compromising. I am slowly clearing out, organizing and reshuffling my stash. He is being patient. Its a journey.
One step at a time.