Poncho For Kim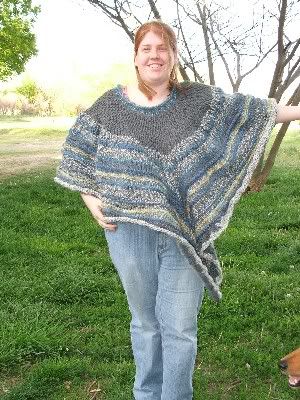 This is a poncho that I am making for my sister Kim. Amanda, is my model, thanks Amanda! She wants a pocket in it and I am still working of how to do that. Right now I have a fold in the front to stitch down. This may sound odd, but there is a good reason.
Martha Stewarts "Coming Home" poncho is the basic shape. I like the design of this one better, the 'v' shape is flattering.
I bought yarn for this! I started out with the grey, while in Indiana. It needs to be machine washable, so my handspun was not an option. I had some wool/acrylic blend Ragg around, and found some mohair. It is a little bulkier than I wanted, but since it is a replacement for a winter coat, it needs to be warm. The weather here is cool enough that it has gotten used as a throw while on the couch, and trips to the mailbox. Comfy.