Rainbow Socks Dudleyspinner Handpainted Tie Dye Roving Combed top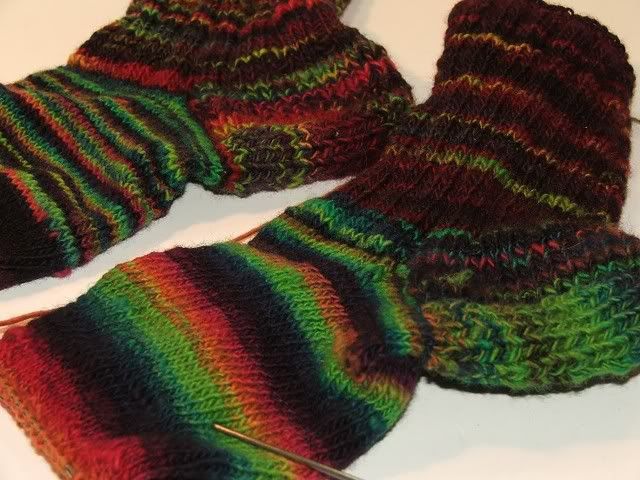 Here they are! Just a few more toe rows to finish.
But DEB they don't match! Oh yeah, my theory on socks, horseshoes and grenades.
They are close enough.
The top sock has stripes that are much thinner strips of roving so the repeat comes sooner. The bottom yarn was thicker strips so the repeat is longer making a wider stripe. I am trying to figure out how the yarn will look knitted, and this is a good visual of what happens when you strip the roving and spin.
The down and dirty details.
The yarn is spun at about 20 wraps per inch. Needle size is english 14, which is a size zero U.S.
It is a singles yarn. The bottom sock is knit right off the bobbin. It would be considered an energized single.
I cast on 60 stitches
The rib is a knit 3 purl 1
I divide 30 for the heel flap
When the foot is about 1 1/2 inches shorter than your foot length, start the Round Toe.
It is a round toe, knit four, knit two together, knit four rows
knit 3, knit two together knit three rows
knit 2, knit two together, knit two rows
knit 1, knit two together, knit one row.
knit two together around.
It does skew slightly, but it seems to make them really hug my foot and feel like an Isotonor glove. I made the heel flaps extra long so they have a deep gusset. I have short feet with a high instep and a narrow heel. They are wide at the ball.
I have actually had my feet photographed. It was at the Goessel, Kansas Threshing Days.
I always spin barefoot and a woman asked if she could photograph my feet while I was spinning. So of course I was flattered and bewildered and said sure why not.
Deb
Labels: Lizzie handspun yarn, rainbow socks, yarn