A Crochet Pillow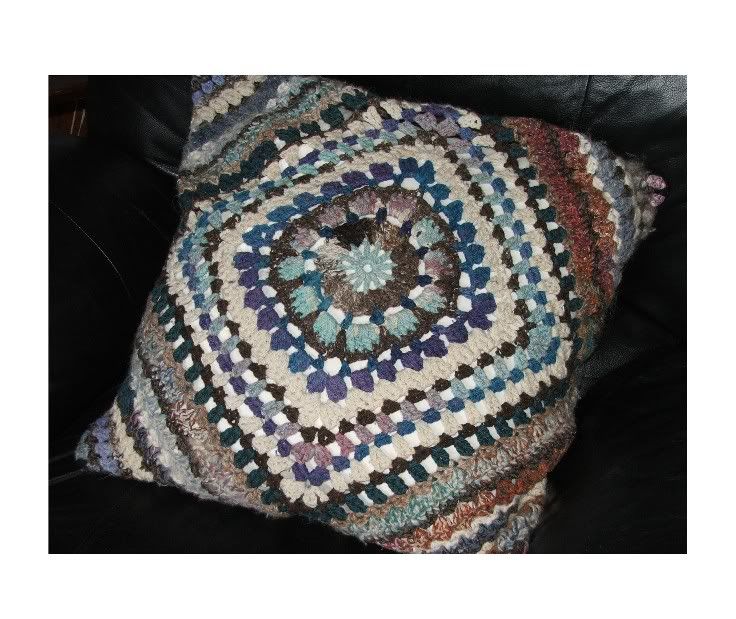 This is a pillow I made a while back. It gets used everyday. It is the pillow I use for my nap. It was crochet with bits and pieces of handspun that were small. Some were samples from spinning classes, some silk& cotton roving that I spun on a takli spindle while I was working for
RTI.
While working for RTI, I would have to wait on people to get an interview. I was working on a women's health study for the Center for Disease Control. It was crazy. I asked them such personal questions about their sex lives, birth control, children they had, but did not have custody of, children they planned to have. How often they had sexual intercourse, how many partners in their lives. You would think that woman would not want to share such personal information. Believe me, they did, and would talk about things after the interview was over. The takli was something I could take with me and spin on while I was at work. Time that would just be wasted waiting. I always love to get paid for spinning! I decided to use some of this really nice spinning I had done to make something for me.
I am sending some fiber to
Wooly Knob Fiber Mill
for processing. I met Matt and Jamie at a spin in in Indiana a few years ago and have been meaning to send some to them. I never got around to it, until now. I am thinking I want them to do a Monet type of roving, with purples, blues, greens. I have all the wool dyed, just need to send it off. I am on the waiting list at least. Tomorrow is my goal for boxing it up and getting it in the mail.