Derry City Walls
bogsidegatederrycitywalls
Originally uploaded by dudleyspinner.
Derry City Walls
Bogside Gate Derry city walls these walls are ancient.
Among the many historic monuments in Derry, the massive city Walls on the west bank of the River Foyle are the most striking and memorable. Built between 1614 and 1619, the original Walls are almost perfectly preserved today, making Derry one of the finest examples of a walled city in Europe. Using earth, lime and local stone (some from ruined medieval monastery buildings) Peter Benson from London skillfully constructed the thick defensive ramparts and angular artillery bastions following closely the design of Sir Edward Doddington of Dungiven.
The entire cost of the building was met by the Irish Society comprising London businessmen who were responsible for the Plantation of Derry. It was their duty, under a Royal Charter of King James I, to build and maintain the Derry Walls to help control the local Irish rebels. In return they were given large parcels of land in the region for themselves. Despite sieges in 1641, 1649 and the Great Siege of 1689, Derry's Walls were never breached - proof indeed of their careful planning and excellent construction, and reason for the title 'The Maiden City'.
Originally there were only four entrances (or Gates) into the walled city i.e. Bishop's Gate, Shipquay Gate, Ferryquay Gate and Butcher's Gate - arranged in a cross pattern with the Diamond as its centre. Drawbridges and portcullises were used to protect some of the Gates when under attack. Later were added New Gate (1789), Castle Gate (1803) and Magazine Gate (1865). The original Gates were themselves re-built in the 18th and 19th centuries.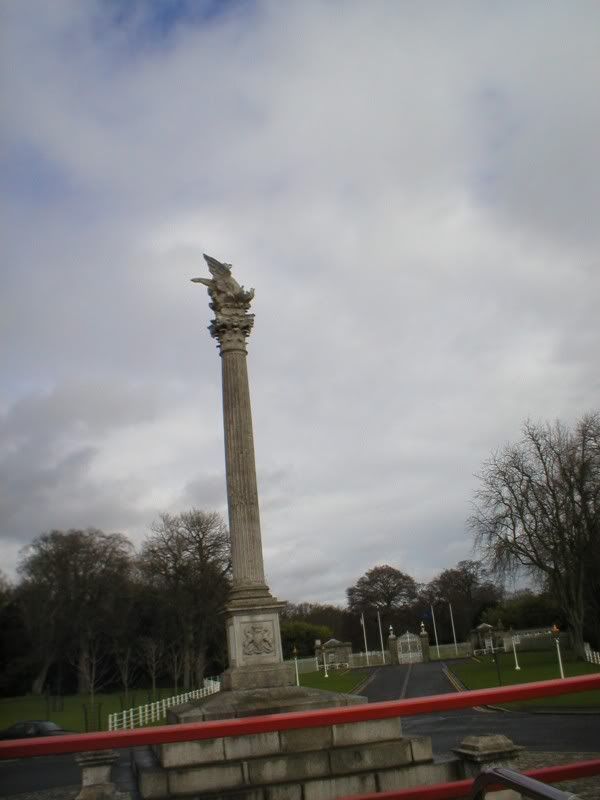 Phoenix Park entrance Dublin