Honor Graduate, Estes Park Wool Market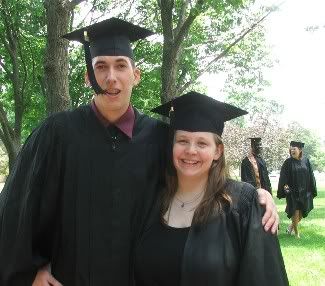 This is my daughter Amelia and her friend Johann on graduation day last Sunday May 21.
Amelia graduated with a BS in Social Work, Summa Cum Laude from Bethel College North Newton, Kansas.
That is what I have been doing lately. Picking up Amelia and my sister Kim from the Kansas City Airport. Amelia got home from Ireland on Tuesday, gave her seinor presentation on Friday. Satuday we had an open house. Tuesday we took Kim back to KC. Alot of driving, but it was great to have her visit.
Th graduation party open house for Amelia and our friend Phil was fun. They have known each other since babyhood. It was fun to see them reconnect. I used the punch bowl and had flowers and pretended to have a little class.
Now I am dying wool like a fiend to get ready for
Estes Park Wool market.
I will be teaching free form crochet and have a booth for my
dudleyspinner rovings
and some handmade items.
Busy time of year!
Ta,
Deb