"ROOM TOOM AHOOM Don't Be Hasty" says Treebeard
This boy was fancinated by the angora bunny, but never would pet it!
Saturday Mike and I went to the
Kansas Sampler festival
in Newton, KS. I made it into the first little area, saw fiber, spinning wheels, sheep and an empty chair with my fiber friends. That is where I spent the most time. I talked fiber, worked on Kim's crochet poncho and explained the
create with unspun roving
method to everyone who asked.
One woman who stopped by had taken Deb Mentz' class and didn't spin. She was thrilled to find a way to use up all the batts she had created at the class. The group was demonstrating spinning, knitting, crochet, weaving, and how much fun it is to be a fiberholic.
I had not intended to demonstrate that day, but the opportunity presented itself, and I am glad I did. It was fun.
I did get to see some of the exhibits. Makes me proud to be a Kansan or Kansite as we are called in my home Hoosier state of Indiana. There was a huge variety of Kansas products.
Mom you pet it first!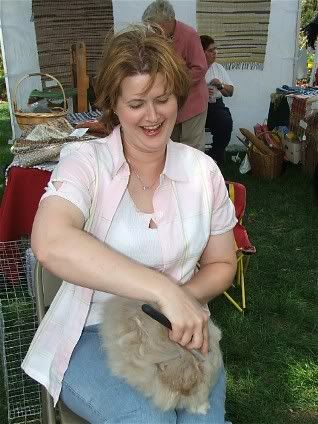 Kim combing her bunny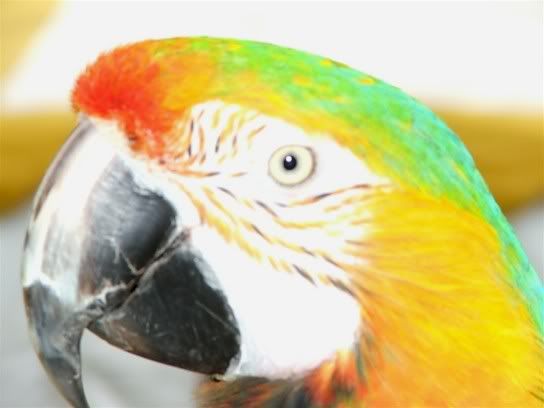 This would be a beauty of a yarn!
The Raptor sancuary exhibit was right across from us.
Progress update on the studio hostile takeover.
((Theme to Indiana Jones, Temple of Doom plays in background, suddenly the music stops))
The booming voice of Treebeard is heard in the distance. "Don't be hasty little Dudley" hoom toom boom ahoom!
Dudley the lion tamer has been shuffling bags of wool, sorting, and listening to Treebeard telling me "Don't be hasty". My goal of getting wool in the mail off to the mill has been altered. I have to really think about this a bit. What do I want to send off, and what to turn into art. What should become garden mulch.
Browns with mohair is the current planto send to the mill. (subject to change as the need arises.) Matt at Wooly Knob described some roving that Jamie did for him with black and mohair that sounded very yummy. The mohair was put on the outside of the belt, so it ends up on the outside of the roving.
I call myself a fiber artist, but where is the art??
I have plans now to turn some of this huge stash into wall hangings, vests and such. I have a huge pallet of colors and should really use it that way. It would be mediocre spinning quality any way.
I found something in my studio I haven't seen in a long time. THE FLOOR! There is a small patch of open floor now. Progress is being made. Slowly, slowly. One step at a time!
My friends Greg and Cathy offered me a 6'x4' antique wooden drafting table. All I have to do now is make space for it!
This was yesterday evening after a much needed rain. This is the view from my front door. Of course there isn't always a double full rainbow, only on the best days. There is hope!