Felted Carpet Bag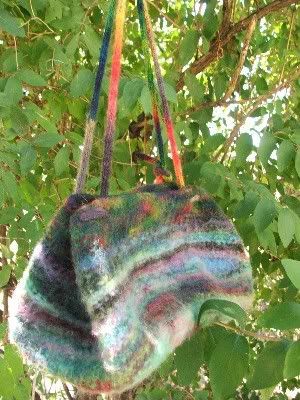 Here it is! The felted bag is done, well felted anyway. I am trying to decide if it needs lining. What do you think?
How to close it securely is also part of the finishing process. I am thinking of doing a strap with the rainbow yarn, with a magnetic snap for the closure.
The bag did shape up nicely, and is much larger than it looks. It measures 6 inches high, 12 inches across, and 4 inches wide. The felting shrank mostly in the height.
If anyone is interested, I will write up the instructions. It was knit with my 100% wool
unspun roving
When I did the felting, I used the washing machine, and a dishpan.
Into the washing machine I ran a small load of HOT water, with a small amount of cheer. Using too much soap slows down the felting, and makes it hard to rinse out all the soap. I put the bag and I-cord into a zippered pillowcase. Let it agitate for a few minits, then take it out and put into COLD to shock it. I repeated the process until it was felted, the stitches were no longer clear.
Using this method instead of just running the machine through several cycles is better for me, because I can check it often. The the change in temperature is what really makes the wool felt. You can feel it when you plunge it into the cold water. It also saves a lot of water and soap!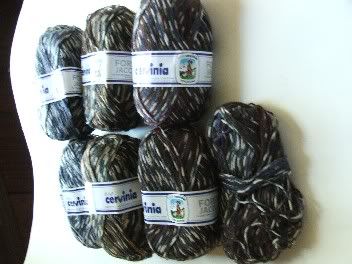 I can fit these 6 and a half balls of yarn in "The Carpet Bag"!
This yarn will eventually become at least three pairs of socks. This is Cervinia Forever Jacquard. It is 75% wool, 25% polyamide(nylon). It works up very similarly to Regia yarn, but is a little cheaper. It may not be quite as soft. It is superwash, so the socks can be machine washed and dried.
These are some stitch markers I beaded.
I am trying to learn peyote stitch. Beading is very pretty, but very tedious. I am happy with these, for my own use, but don't feel they are the best I could do. The learning curve on beading is very steep! The will serve the purpose of adding weight to the marker, they tend to fly off when transfering from one needle to the other.
Another little story:
Back when we lived at our old house, our friend Greg worked at the dairy down the road from us. He would often stop by on his way home after milking and shoot the breeze.
One sunny day Greg stopped by, we were sitting on the front steps soaking up some sun, enjoying the day. My husband Mike came home for lunch, and walked up and said.
" I suppose you two know there is a rather large snake behind you."
Greg says "Oh, yeah, right."
I turn around, and there climbing the lapboard siding of the house is a three foot long black snake.
Needless to say, I moved away quite quickly.
A black snake is not something to fear on a farm. It is a good friend. They are very benificial for a farmstead, keeping rodents down and therefore welcome.
Mike picked the large snake up, carefully grabbing it behind the head and moved it into the hayshed. They can bite, but rarly do, they are a constrictor.
I saw it quite often that summer. I was glad it was somewhere other than behind my back.
Go raibh maith agaibh (thanks, y'all in gaelic)