Meet Abby, Abby Normal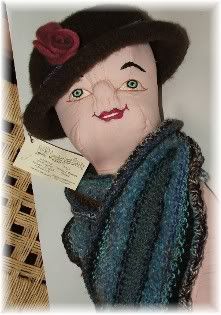 This is Abby, she models quite often for me. Today she is sporting the Foxy Brown hat, with pinned on felted rose. A mobius strip scarf that is made from itty bitty pieces of handspun.
I saw something on a blog the other day that made me stop in my tracks. Someone had taken a knitted garment they had made to the local yarn store to be finished.
Now you have to understand, the nearest yarn store to me is about an hour away. The owner is manic depressive, somedays she will talk your leg off, others she can't get rid of you fast enough. She is a nut job, no doubt about it.
My friend Beth had wanted to learn to knit socks. Beth went into the store to purchase yarn and needles, and possibly a pattern. The nutsy lady copied off a chart that looked like Greek to me. Beth showed it to me, I threw her a sock and said cast on 60 stitches. The obvious point to giving Beth the complicated chart was to make it as difficult as possible for her to learn to knit socks. Not the wisest marketing strategy, but if you are psycho, it is all for your entertainment. To be better at something that someone else is all important. Sales be dammed.
I can not understand taking an item to anyone else to finish. I got a great book a number of years ago that helps you to avoid finishing, no weaving in ends because you knit them in as you go. Kaffe Fasset's Glorious Knits. His directions for knitting in the ends is
very useful.

When I have an end, I work the yarns together for one stitch, then wrap it around the yarn and knit the next stitch, it stays on the wrong side. Keep wrapping it until it is too short to wrap. Then take a felting needle and felt that end down. It is difficult for anyone to find my ends. Now if you should have to frog the item.... well good luck.