Handspun Socks" Wilde Greenies"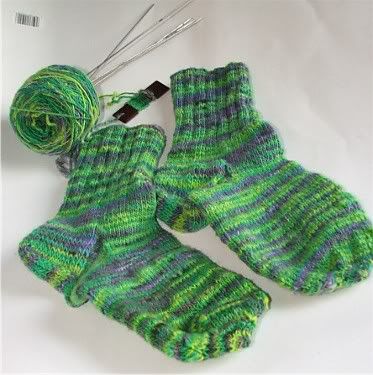 This pair of socks was knitted with handspun from
dudleyspinner
roving. I spun this 100% wool singles at approximatly 17 wpi. The color changes are in the yarn, making them fun to knit.
The knitting was done using the singles, with size 0 and 00 needles. They are old steel needles I picked up at a thrift store, so I don't actually have matching sets. I just use whichever I pick up. It doesn't seem to matter.
The singles is slightly overspun so the socks feel like isotoners, they hug your foot. I was working on these at an anniversary party on Saturday. Creigh, a teenage boy, said he liked them, and I could give him that pair for his birthday! However this pair is mine, all mine. They fit perfectly, and because they are knit so tightly, I am hoping they will last a while.
Thanks for reading!
Labels: wild greenies socks