Dudleyspinner Spins!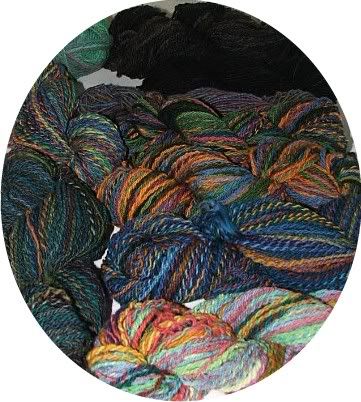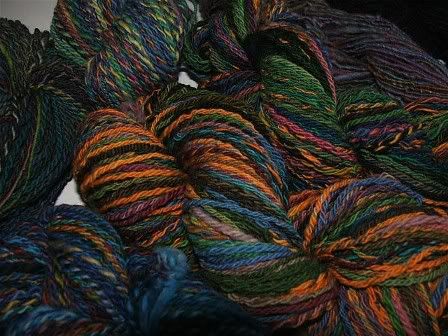 This is what I have been spinning the past few weeks. This is all bits a pieces of
dudleyspinner
roving from Ebay. I tear off bits sometimes to make an even amount for sale. I just played with the colors. I do like spinning this roving. The orange skein is Navajo plyed, some of the others are two ply.
I knit on a very odd pair of socks today. I finished one sock that has it's mate living in Indiana. My sister had a blister on her toe, I gave her a handknit wool sock to try.
"Oh wool will be way to hot". Says Kim.
"Just try them" Dudley tells her.
Kim put on the sock, the one sock, on the affronted foot, the sore toe with the blister sighs with relief.
" Finally wool, something that will absorb the moisture and help me get better". Says her toe.
Kim wore that one sock, all week, and did not want to give it to me as I was leaving to come back to Kansas. I finally finished the mate, and will send it off soon. To be reunited with the other "Blue Healer" sock.
The other sock I was knitting on today, was in the car on my way to a wedding. The custom cutters(wheat harvest) were in force on the road. About 7 large trailers with various combine parts with WIDE LOAD flashers needed to be passed.
Not a pleasant knitting experience.
We were late, so my father in law was trying to pass the line of vehicles, he would come up behind one and have to practically stop. Then swerve out to pass, and give me the heebie jeebies as he would start to pass, then duck back into our lane. Hey we made it to the wedding on time, as did the bride.
Last Saturday's wedding took place about two hours late! The bride was at the shop (dog grooming shop turned into wedding central) sewing a bridesmaids dress and finishing her wedding dress when the wedding was due to start. I have to say though, she did make about 10 dresses, antebellum hoop skirts no less. So, not quite getting finished on time is understandable.
If you knew
Diedra
you wouldn't be surprised. None of the guests were.
I named a roving after her this week in honour of her biting off more than she could chew!