DUDLEYSPINNER ROVING!
DUDLEYSPINNER ROVING

This is the roving, and basket full of handspun yarns I took to the
Handweaver's Guild of Boulder annual sale
in Longmont, Colorado.
The sale is a huge and wonderful event that was inspiring. I sold quite a bit of roving, and nearly all the handspun yarns.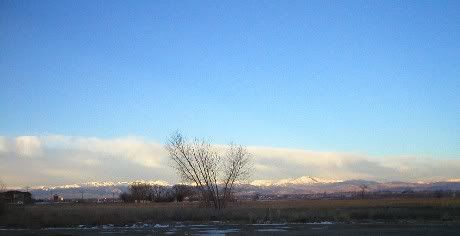 The view from our motel window. Today it was 100 degrees here in Kansas. This photo looks cool and refreshing. The mountains are about 30 miles from Longmont, which is north and west of Denver, Colorado. This was in December 2004.
I have been experimenting with knitting socks on a knitting machine. I found a couple of patterns. Basically you knit the sock flat, using the gauge according to the yarn you are using.
One pattern uses 65 needles, for a mans sock. I would knit a sample and adjust to my yarn. Cast on sixty stitiches using a 3 knit, purl one rib. Knit the cuff, then you put 15 stitches on each side on waste yarn, or a thin knitting needle.
Cast on the 15 stiches on each side and continue with the foot, with 60 stitches.
So you have a slit on each side of the sock. Those are where you add in an afterthought heel. Continue until you shape the toe by decreasing on each side until you have 16 stitches left. The sock is finished by sewing up the center bottom seam, using a kitchner stitch. Then you knit the afterthought heel and are done.
Thanks for reading