Handspun Yarn! A Spinning We Will Go.......
The past few days I have been spinning quite alot. My daughter Amelia Jayne asked me to make her a sweater. You may not think this is a big deal, but I do. Amelia is the fashion police at our house. She dressed her father for his college graduation. (he became an RN at 43, graduated with a 4.0 GPA, while he farmed and worked part time as a CNA).She dresse him him in cacki pants with a button down blue shirt.
Amelia is the only member of this family with any fashion sense. Meghan prefers fourteenth century fashion to mundane clothing. Mike wears scrubs, I wear sweats and slippers, (one of the perks of working at home).
Amelia picked out some grey wool that I got from Barbara Zumdome at Lamb Lane. She raises sheep. Right now she is getting ready for 84 ewes to lamb.
This is a very soft grey wool roving and I am spinning it very fine and planning to ply it with a strand of hemp, and a strand of hemp/alpaca that I carded up last night. The greys are the same color of grey and the hemp is a french vanilla creamy ecru shade. I plan to ply the three singles together and have a yarn that will be very washable.
I made a purse with some hemp wool blend in one section and that part of the purse did not felt. The rest really shrank up and the hemp/wool section barley changed.
So how much hemp do you need? I think the yarn that is in the purse is about 30%-70% Hemp/Wool. What I am spinning is close to 50%-50% hemp/alpaca.
This is a bag of pure heaven. The alpaca is straight off the hoof, very clean and so soft. I think this is going to be some very nice handspun yarn for me to knit something with of heirloom quality.
Ta,
Deb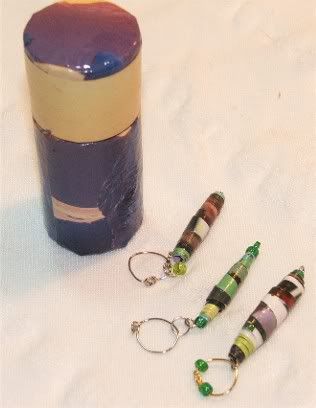 some knitting markers that will be sent off as soon as I get to the postoffice