Captain Jack (he has a bit of a wobble)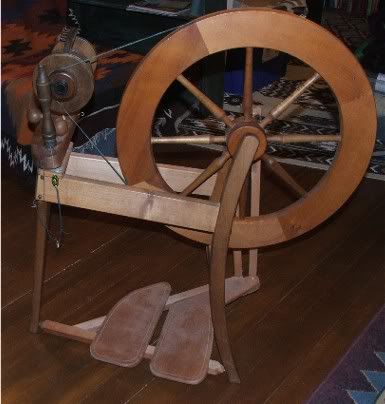 This is Captain Jack, an Ashford Traditional that has a few major alterations. Jack has a bulky flyer change over from the regular flyer. It is capable of making thick funky yarns.
I added a double treadle because this wheel is about 40 years old. Possibly one of the first designs Ashford ever did. The bearing holding the flyer is leather. The crank shaft was two pieces with bolts holding it together. He had a bit of a clunk. So I got the double treadle and fixed that.
Then the wheel had lived in New Zealand for close to 40 years. I had it shipped to much dryer in humidity Kansas and the wood shrunk. The spokes of the wheel were just loose. My friend Nathan and I took the wheel apart and reglued it. Nathan is an engineer and a great woodworker. He is also very particular. I would call him anal, but, he is my friend. Anyway even with the great care, the wheel has a slight wobble. That's how he became Captain Jack!