What's in YOUR Knitting Bag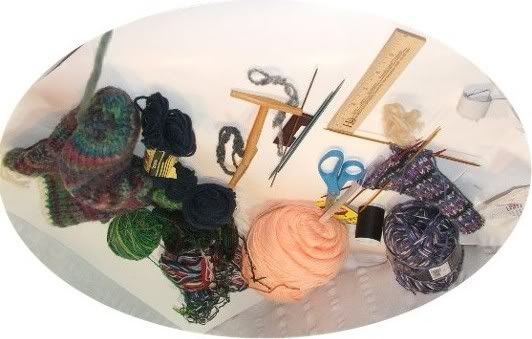 Diana aka Dysfunctional Knitter
tagged me to reveal the contents of my knitting bag. At first I was appalled, how could I admit that in my knitting bag was a large skein of acrylic yarn. I knew this because I had taken the treacherous bag to Nate and Sylvia's to watch football last Sunday. I had taken a bit of inventory to find the sock I knew was supposed to be in there. The sock was the reason I took the bag, along with this hat,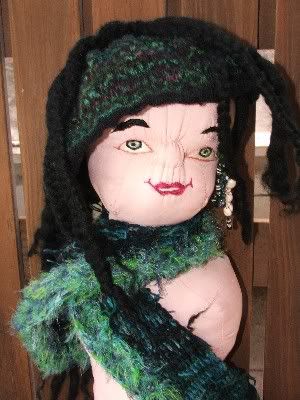 This is the hat,
that was in the bag,
that lived in the house that Jack Built.
(sorry I was having a Grimm moment there)
This hat is one of the best knitting pieces I have ever done. It is for a woman who is an art professor. She has been very generous and supportive of my work.
The dreadlocks were actually attached to the side over one ear. The dreads are detachable, and can be worn separately or removed entirely.
This hat was knit with this yarn. It is handspun at 30 wraps per inch (wpi)
The beret was delivered to Nate in trade for him fixing my spinning wheel. Nate and I took the wheel apart, realigned, and reglued it with gorilla glue. It still has a wobble, but that's ok. It gives it personality. I shall name that wheel Captain Jack, he had a bit of a wobble as well.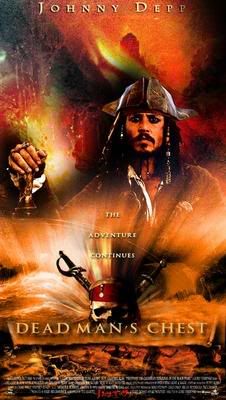 Captain Jack
Back to the contents of the bag:
A pair of scissors,
paper book of matches with a needle stuck through,
a spool of black thread,
a spinning gauge,
two balls of yarn leftover from socks,
one finished sock that was machine knit. ( We decided the seam up the middle is a problem. It would be felt when worn.)
The other unfinished machine knit sock,and yarn to finish.
One knit slipper with acrylic yarn at the cuff. This is the reason for the acrylic yarn. The slipper is to be felted, the acrylic doesn't felt and holds open the holes for attaching the knit cuff.
Mini niddy noddy, this is a Christmas ornament. I use it to wind up bits of yarn into mini skeins.
One skein and one ball of Bucilla Tapestry Wool
One Bic ink pen
One 6" ruler from Harrisville Designs, on the back are handwritten decimal equivalents for fractions. I still can't remember them reliably.
a bit of hemp fiber
A receipt from the Yarn Barn for dyes $89.70
A description for Scandalously Beautiful Fiber Batts.
That's everything that was in the bag.
Ta,
Deb