Dudleyspinner Fiber Artist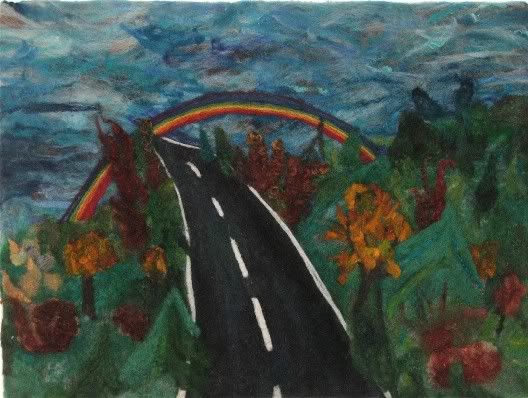 A few months ago I was attempting to organize my studio. A monumental job. The room is filled with fiber. Wool, angora, cotton, alpaca, camel, dog hair, yak, horse hair, llama. Just about any fiber you can name, I have at least a sample of it. It has bins from floor to ceiling with a walkway to my work chair in the north window.
At one point I had planned to send a mass quanity of fiber to a mill to be carded. As I went through the fiber it occured to me that I had a stash of every color imaginable and blending it to spin may not be the best use. I call myself a fiber artist. Where is the art? I found it in the boxes bags and bins in my studio. Needle felting the many colors into wall pieces is a better use of the resource.
I started this needle felted piece called "A Day In Ontario"
This one dimensional photo does not show all the texture. In person is makes you feel that you are on that road. The photo is an earlier unfinished stage.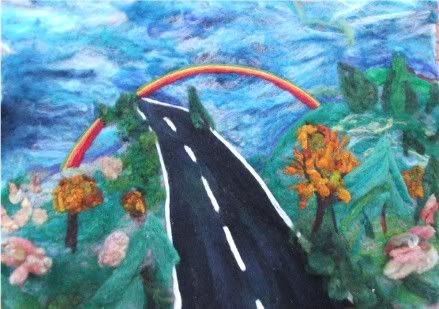 I found my art.
Recently I had posted to the Crochetville list stating that the negative perception of crochet could be related to the poor quality acrylic yarn used by so many crocheters. The response was basically that I was a yarn snob, one of those fiber artist types. All I can say is Thank YOU! If using the best materials for my time and talent makes me a yarn snob, I will gladly accept the lable. I use acrylic if it is appropriate, a baby afghan or for someone who needs easy care items.
For myself and my work I prefer wool in all its glory and qualities. The way wool works up is so much better than any man made fiber. The way a wool yarn refracts light is not equaled by any other fiber. The colors that I have dyed it are not available in any store. They are unique and individual. Just like me.
Ta,
Deb
This and all photos are copywrited material. Please do not use without express written consent from me. Deb Brandt