The Award Goes To *****drum roll please****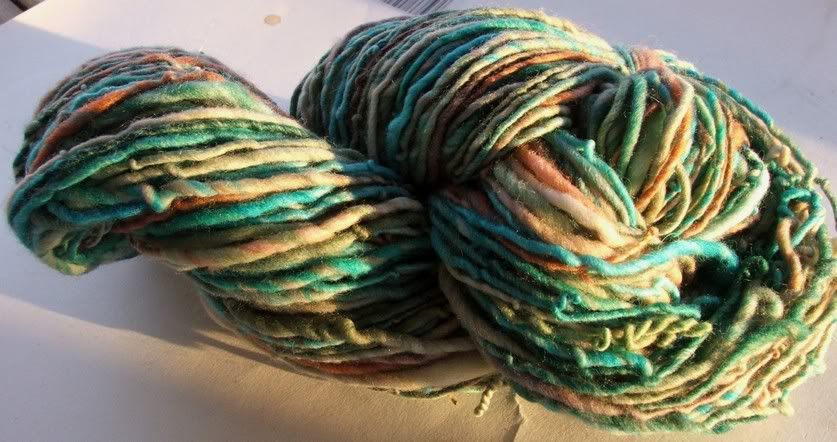 Dudleyspinner yarn
After much consideration of the fine entries to the "Why I am a Yarn Snob" composition contest the winner is: Wendy! Congratulations Wendy. Please send me your address so I can send you the
dudleyspinner
roving.
All the entries for the wool roving were very good and quite educational.I learned what the facts are behind my love of wool fiber. If you entered the contest send me your snail mail address and I will send you a sample of dudleyspinner roving.
Wendy said...
Why I Am a Yarn Snob
I didn't used to be a yarn snob. I used to be a poor knitter. Well, low budget. And I knitted with Wool-Ease because I could afford it and it was nice enough. Then I blocked my first sweater. I blocked it wrong. I took the lovely waist ribbing, eight inches of it, and blocked it out to the full width of the sweater. And, because it was not wool, it was ruined. Wool can be restored to its original shape and blocked again; not so for acrylic.
Once on a vacation, I went sailing with some teenagers (I was a kid). We were on a catamaran and it was amazing. But eventually, of course, we overturned the boat and got soaked. In a lake. In Michigan. At dusk. However, since I had been told to wear a wool sweater, I was not cold. Wool is warm, even when it is wet.
When I was a child someone (I don't remember who) knitted me some slippers out of acrylic yarn. They looked great! I loved them. Until I wore them. The purl bumps on the bottom of those slippers felt like they were making holes in my feet. And there was nothing to do to soften them up. They were what they were. Now I wear felted slippers. Not only can you not feel the purl bumps, you can't even see them. Wool felts.
My new addiction is spinning. Spindle spinning, wheel spinning, reading about spinning, thinking about spinning. Even washing raw fleece for spinning. The yarns I make are not perfect but they are unique. And every time they are closer to what I was going for. Or at least as interesting as what I was going for. Handspun yarn really has life, like wool. Handspun wool seems alive in your hands. And if you are working with fiber you dyed or carded yourself and you really don't know how it will knit up, it's the most exciting knitting to do. Can't spin acrylic. And why would you want to?
And that leads to my last reason. Wool takes dye just beautifully. If you want to knit something in just the right colorway to satisfy your impossible in-laws or match your couch or wake you up, dye it yourself. If you are a color junkie (I am) and just want to watch colors flow through your hands one after another and that makes you knit more and enjoy the process and the product, dye your own yarn. If you want to make something that will surprise you at every step, the dyeing, the spinning, the knitting, dye some wool. You'll be glad you did!
So I am a yarn snob. Even with budget issues and the fact that I live in a warm climate, I prefer wool to acrylic. And thank goodness for Knitpicks!
9:14 AM
This photo was taken on the ground in Eastern Kansas This is a thunderhead that later produced tornados in my county. It was about 60 degrees. At the West end of the state there was a blizzard. Interstate 70 was closed from Hayes to the Colorado border. Kansas is a land of extremes.
Ta,
Deb