The Fourth Day of Christmas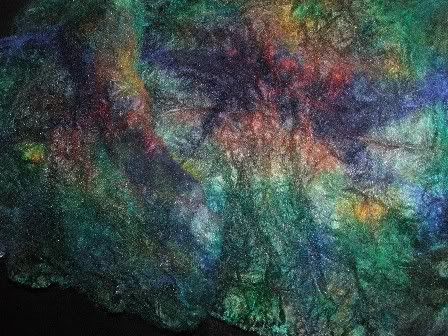 Silk hankies I dyed just for fun.
On the fourth day of Christmas my true love brought to me Four coloured birds.
These hankies look like some brightly colored parrot, or love birds. In the song they were more likely pheasants.
I recieved alot of compliments on the Yule spider story.
Last year in early December I was sitting at the Handweavers of Boulder annual show in Longmont, Colorado spinning in the demonstration area. A woman came up that was wearing a spider pin. It was silver and turqoise and very lovley. I asked if she knew the story of the old woman and the spider, she said no.
I told the story. it was if the old woman was channeling through me. I could see the little cottage in my mind,feel the broom in my hands, see the golden threads.
When the story was done we were silent for a moment. The woman said "that gave me chills" when she said that, it did me too.
I have read this story with many versions, but never quite this version. As a spinner it touches a thread that makes the whole web quiver.
Ta,
Deb