Ozarks Dye Class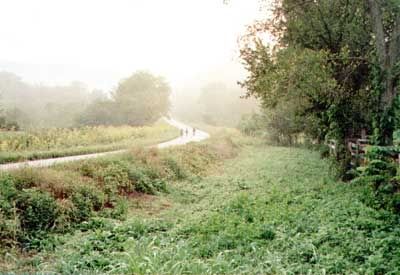 The Ozarks, the name conjures up Silver Dollar City and spring fed lakes. For me it was a road trip on the backroads of Missouri. I had left home not thinking that I was driving into Kansas City Friday night rush hour traffic. Listening to the radio I knew I was in for long delays.
The heat was into the triple digits for another day, and sitting on the black asphalt, in a black car for who knows how long sounded like a bad idea.
At Gardner, I bought a Kansas map and talked to a delivery driver about how to avoid driving into the spiders nest that traffic was going to be. He grabbed a doughnut bag and drew me a map of how to get past the city on the backroads. It was slow driving, but at least I was moving and could run the AC in the car without fear of vapor lock.
The backroads appeal to me more and more as I travel. The interstate is faster, but you only see the corporate side of travel. There are no mom and pop restaurants on the interstate.
Get off the main drag and the variety of American life comes back. You can't eat at Snookeys drive in on I-70!
Ta,
Deb