Help! I am Dying Here!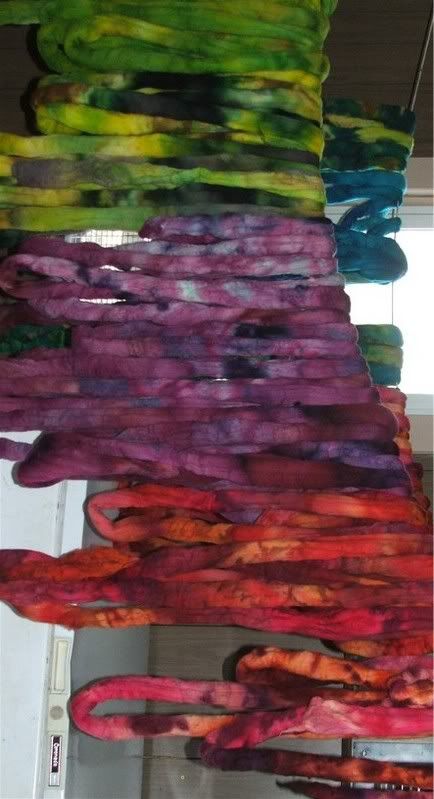 This is what happens when you fill 5 crock pots and one kettle with dye and wool roving. This explosion of color is for
Medium Reality Handmade felt hats and scarves
. Rachel has been busy making hats and scarves with the
dudleyspinner hand dyed roving
I have been doing some needle felting and a wee bit of crochet. Basically I have been doing a lot less fiber work because of something dumb I did back in June.
It is almost embarrassing but I will tell you the tale.
I was on my way to Estes Park, Colorado, for the annual
wool market
Driving a 4x4 pickup with a slide in camper on the back.
It was a windy Kansas day. If you live in Kansas or eastern Colorado or some other wide open space you know what I am talking about.
When I say windy, I do not mean a gentle breeze. I mean nearly tropical storm force winds. You think I exaggerate! That day the wind was blowing steady at 35-40 and gusting to 60 mph. There was a high profile vehicle warning. I was driving slow because of the winds, creeping along at about 50 mph. I was trying to just keep it in my lane and out of the ditch.
I stopped at a rest area to get a bottle of water from the icebox in the camper. This meant that I had to climb up on the bumper, get the water and climb back down.
On my way down one of those 6o mile an hour gusts hit the door and rocked the truck.
I was about half way down when my britches caught on the curtain rod holder at the bottom of the door. I heard my pants rip and thought, oh no my ass and pulled myself up with my left arm, hanging onto the grab bar. OUCH, OUCH.
This would have been a hilarious site to see, my backside hanging out in the breeze for all the world to see. I saved my butt from serious damage.
My shoulder however took the brunt of the almost tragic scraping. It got strained or torn, the verdict is out on what damage I did. The whole shoulder is inflamed and letting me know that I am too damned old to be pulling such acrobatics.
It was one of those things that I thought would get better with time. It hasn't.
I finally went to a doctor, and am doing physical therapy two or three times a week.
The PT is helping and is something I should have done months ago. The recommendation is not to do spinning or knitting for a while to not aggravate the rotator cuff problem. No spinning! No Knitting! Yikes!
But I can still dye dammit!
Ta,
Deb