Dudleyspinner Roving! Handpainted Combed Top/Roving in the Tie Dye Style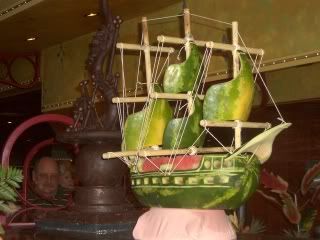 This was part of the midnight buffet. There was an hour of photography only before the feast was served. It was fantastic and sad all at the same time. It was very beautiful and wasteful at the same time. Much of the food that was used to display the artistic talents of the artisans was wasted as food. Huge blocks of cheese were used for the floral displays. These were all waste.
Being an American traveling abroad for the past two years I am struck very broadly with the half and the have-nots.
I live in luxury compared to many in this world.
I am very grateful and humbled to have had the privilege to have traveled to other countries.
At this perticular moment in time I am not extremely proud to be an American, I feel guilty. Guilty for causing so much pain in the world. If you feel the same, let me know. If you feel differently, let me know. I just feel confused as to what I feel.
Deb