Reality Check for dudleyspinner tie-dye rovings handpainted rovings/combed top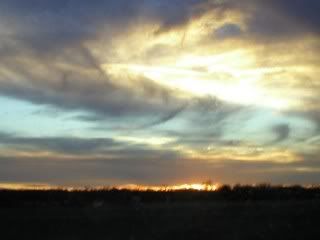 This exotic sunset was taken in Oklahoma. Sorry folks I just call 'em as I see 'em.
The Oklahoma interstate is where I took this photograph and contracted food poisioning.
This is quite disturbing after having been in third world countries and
having no ill effects, to get the trots from coffee and a salad in Oklahoma is sad at best. I guess that Montezuma had to get his revenge sometime and Dairy Queen delivered.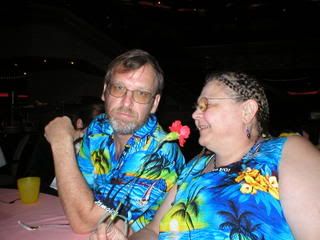 These photos are of my husband and I dressed for the formal dinner. The cruise was fun and lying in the sun while it was freezing back home was sweet. My poor neighbor had to to come twice a day, chipping out her car to come take care of our pets.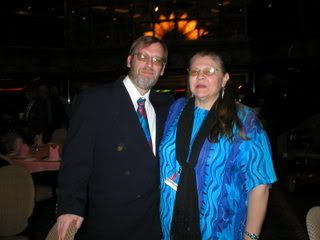 Then it was back to reality, coming home to frozen pipes, and a crashed computer. I have been fighting that computer to get my site www.dudleyspinner.com back up and running since the 20th of February! *&%%% computer!
Ahh well it was fun while it lasted. The food was fantastic, and plentiful.
I got my shoulder operated on and have been working hard at physical therapy to get strong again. The surgery was much easier than I anticipated. The fear before was not really warrented. The worst part was worrying about it before!
Knitting is one of the things that irritates the shoulder, so very little knitting and crocheting is getting done. Alot of reading and working the pullies with weights to build up some strength.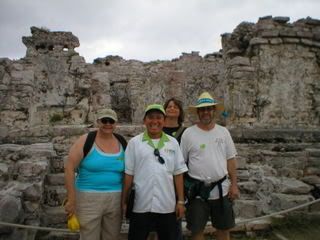 This photo was taken with our guide Gamma, and Sylvia behind us, at Tulum. Gamma was very knolegable about his Mayan heratige. Tulum was built as a sacred site and buildings mark the summer and winter solstices.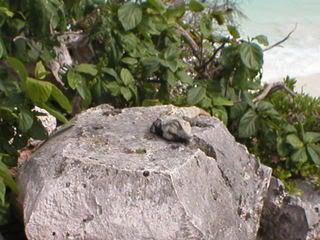 Look closely and see the iguana sunning itself on the rock.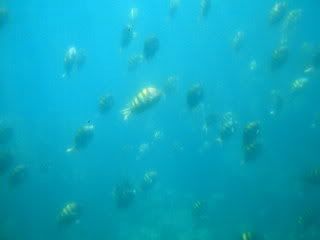 This was in Montego Bay, Jamaica. My sister and I went on a glass bottom boat tour. This was taken inside the boat.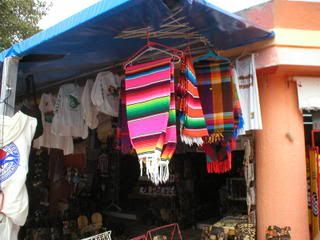 The shops outside Tulum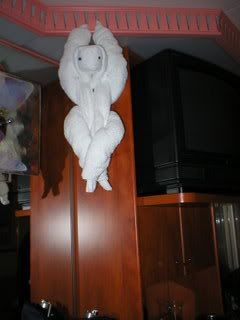 One of those towel animals that were in the room each night, this one is a monkey, I think
Deb