Handpainted Wool Roving Combed Top Free form Knitting by dudleyspinner
Kurt Vonnegut
One of those writers that make you think for yourself.
The world seems a little less bright for a moment, with Vonnegut gone.
So it Goes.
Free form knit 365
the title says it all. A whole year committed to anything is beyond my capacity these days. It did make me pull out my UFO afghan tonight. That and the fact that a snow snorm is coming. I may need it to keep warm.
This afghan is freeform pieces that are built around unfinished objects.
You know a childs sweater in some blue mohair that got started when I was doing I don't know what. It is in here along with a few hats that I cast on the knitting needles and know I will never finish. I like to take the knitted pieces and crochet around the edge, then it is secured and can go any direction I desire.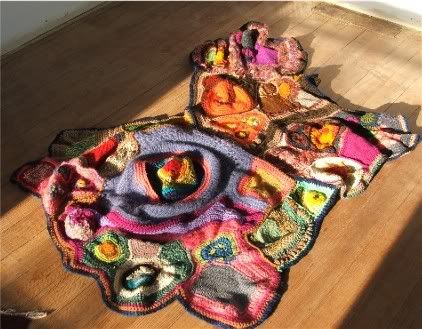 Deb
Labels: freeform crochet, freeform knitting