Handpainted Wool Roving Combed Top BEDROCK by dudleyspinner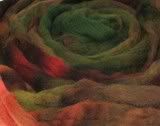 BEDROCK
from dudleyspinner's Etsy store.
On April Fool's Day I was thinking of where I was a year ago. We were stuck in Dublin. There was a transportation strike. The busses did not run that day. We spent the day touring around town. It was a good day. We were standing outside the Kimainhanm Gaol. Several busses had gone by without stopping for us. An old woman came up and I asked if she was going downtown and she told us that this bus does not go downtown so we needed to go a couple blocks the other way and catch the bus there.
My children give me a hard time about talking to anyone and everyone. This was one case where that tendency got us back to Isaacs Hostle where we spent the night before catching a bus back to Derry. A day later than planned. Getting back to Derry felt like coming home which was very strange. To feel like a city that we had spent such a short time in felt like home.
Deb