Scarves, hat and yarn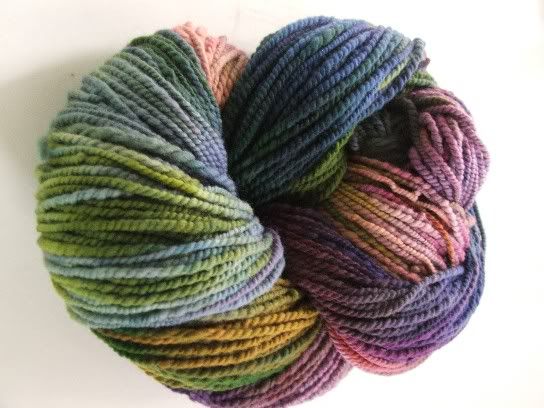 This is the skein of yarn from a couple days ago. It may be the best spinning I have ever done.
What price do you think is reasonable for handspun yarn?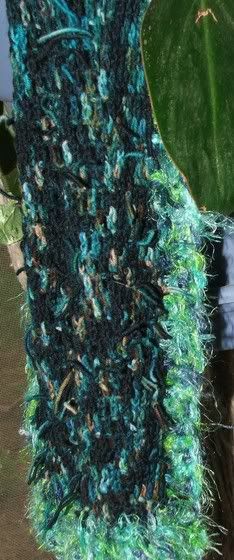 This scarf is something that I crocheted up after seeing
David's,
he cut up some floss and tied knots. I had a couple balls of pink wool yarn and threw them in a dye bath just to see what would happen. Pink is a color I would only use if you held a large caliber gun to my head. It was some old wool that had places where it had moth damage or was just coming apart, so I tied it all back together and got this fun fur effect. The photo doesn't show the texture very well. The knots are tied so there are ends sticking out all over.
Dying a ball of yarn isn't reccomended, but "I can't live by your rules man" as TV's Craig Ferguson says. It does have an appeal. It recycled that old wool into something useful. The fun fur was something I couldn't resist at a yarn shop. I still am not sure about that stuff. It
is
soft, and I liked the colors.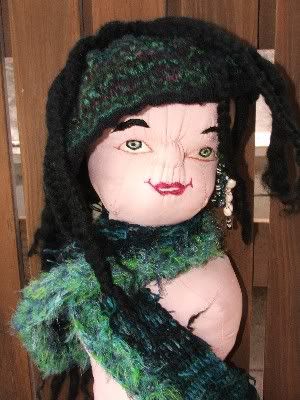 Abby Normal liked it. She borrowed the hat with dreads and beads because she is bald.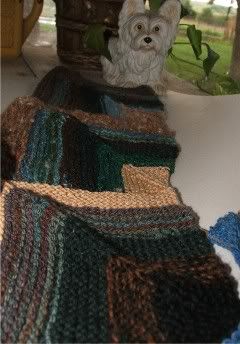 This is a scarf for Phil, his mom gave me a whole box of dmc crewel wool. About 25 skeins. It felts really well, but purple is not my color. Maybe I will dye it up into something wild, as wild as I can over a base of purple anyway.