What's the World Sheep & Fiber Arts Festival Coming To?
"25th Annual World Sheep & Fiber Arts Festival
l!"
It takes place Labor Day weekend, September 3-5 at Bethel, Missouri. Come and see me! I will be there with my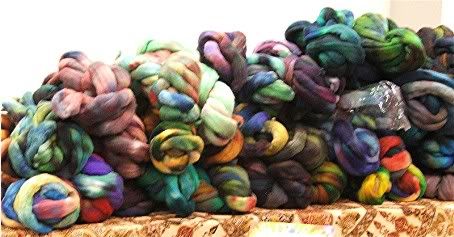 dudleyspinner rovings
I have a few fiber tools, a drum carder and drop spindles and other toys for sale.
There is a great schedule of events planned. A sheep to shawl competition, sheep dog demonstrations. Lead line competition. Fleece competition, fiber arts competition. There will be fleece and sheep for sale, angora rabbits, and other fibery animals there. This is where the Midwesterners get their fiber fix.
I am at the ambivilent stage of preparation for the show. I am excited about going, but afraid I won't be ready. There is alot yet to be finished, patterns to write, wool to dye!
"The Babe"
electric spinner arrived yesterday. WOW! I spun up about one and a fourth pounds of white wool last night, Lazy Boy spinning, I set the spinner up, got a roll of wool and flew! Put my feet up and used my knees to make it go! go! go!. It is a little overspun, but I am working on getting the set up just right. The speed is amazing. I got some string trimmer line and got the set up right. It spins now like a charm. A production spinners dream come true!
Ta,
Deb