And the Beat Goes On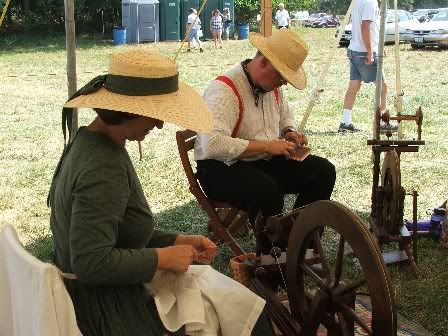 Spinners at the Sheep to Shawl Competition at the World Sheep and Fiber Arts Festival, Bethel, Missouri.
There were two teams of four people in the sheep to shawl competition. Each team had two spinners, one plyer, and one weaver. The two shawls were very different, each just gorgeous in their unique way. One was very colorful and tightly woven, the other was white on white, in a lacy leno weave. The judging criteria is very interesting. It makes an otherwise impossible job of choosing between the two, manageable.
A point system is employed for every aspect of the shawl, the spinning, plying, design and weaving, all get points, the shawl with the most points wins. The lacy leno shawl was the winner.
I don't have a photo of it except on the loom, because I ran out of space on my camera. I was kicking myself all weekend. I could have had some of the best photos because there was so much to see and do.