I'm Baaack From Bethel, The World Sheep and Fiber Arts Competion

This is a small town! With a
BIG
festival! It looked like the circus had come to town. Several large tents, food and fiber vendors. sheep, rabbits, goats, sheep dog demonstrations. Spinners, weavers, knitters, crocheters, lucet users, needle felters, and fiber enthusiasts of all flavors. There was every type of fiber processing tool, felting supplies, BEADS! Fibers galore, it was so tempting to buy everything I saw. I did get one corridale fleece, (stop rolling your eyes, it could have been much worse!) some very nice corridale roving, alpaca and silk roving, mohair silk roving, from Littlefarm Enterprises. Linda was right next to me with her fibers and finished items. A good neighbor. I will be in spinning heaven for
quite
some time.
I camped out at the old high school with a group from Iowa. The four women and Bob welcomed me to their campfire and shared coffee in the morning. Bob had purchased a rug hooking kit, he was at his booth learning how to hook. He was amused when I pointed out that he is now a hooker.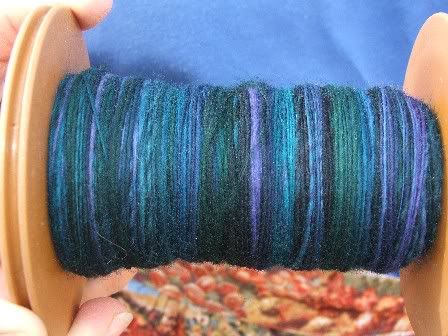 There were spinners, spinning
dudleyspinner roving
! Just look at the beautiful job of spinning, it is exciting to see what dudley's becomes in the hands of an expert spinner.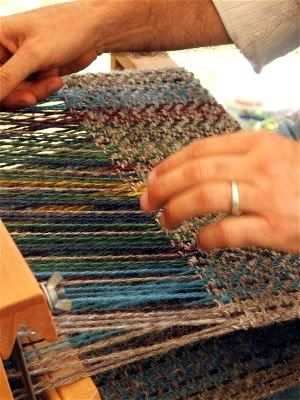 Weavers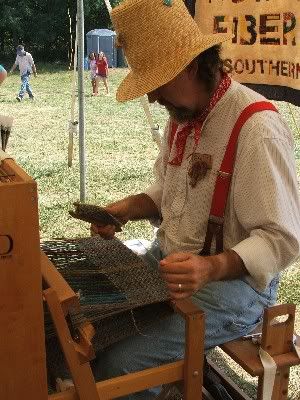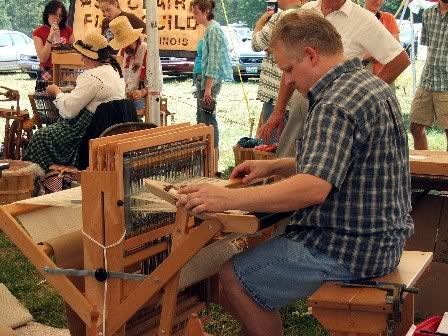 Both of the weavers for the Sheep to Shawl competition were men.
I got to meet Susan from
Susan's Fiber Shop
She is a great gal, high energy and fun to be around. A get-er-done kind of woman. Sue had a whole lot of enticing things to buy. The assortment of books was the best I have ever seen at a show. I got a book about bags that I am excited about. One of Sue's customers showed me a bullion stitch and I had to have the book.