Another Year, Another B'Day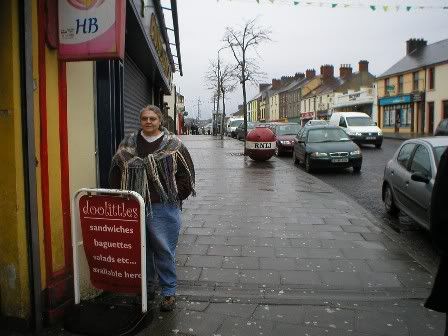 It is nearly 100 degrees today, so I am looking at this photo of myself. It was taken in Buncrana, Ireland I remember it was cold, it rained and how good would that feel today!
I once had the nickname "doolittle" at a temp job at a marine warehouse. That is why I had the photo taken in front of the sign. Dudley became "Doowright", then progressed to "Doolittle". It was a summer job and eventually the work slowed down and we had to be creative to keep working.
Those days were filled with chili dogs and frosted mug A&W rootbeer for lunch.
Today is my birthday, so it was a day to do just what I wanted. I spun some yarn, crocheted a bit on a purse with my very cool horn crochet hook with the little owl carved in bone that sits on the top.
Ta,
Deb