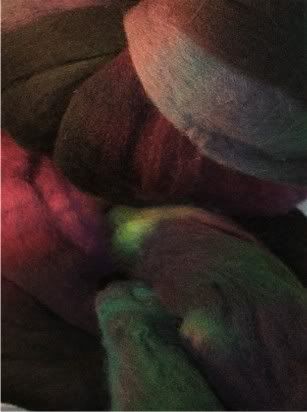 This is one of my latest
dudleyspinner hand dyed rovings
Today was a day much like the day the photo below was taken. It is a crisp fall day, with drizzly rain off and on. The kind of weather that makes you want to curl up with a cup of tea and a good book, or a dvd and knit. Or spin some wool.
Fall is my favorite time of the year. I love all the colors. The smell of the leaves. It is spicy and nice. The smell of bread baking when you walk back into the house from getting wood.
I like living where the seasons change. It gives me markers for the passing years.
Deb
The photo was
taken in
Pwllheli, Wales
church yard Pwllheli, Wales
Originally uploaded by dudleyspinner.