Waiting to Exhale? I Didn't Think So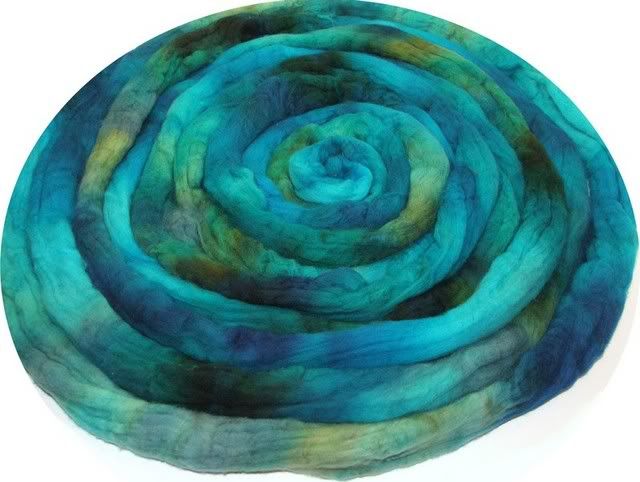 For those of you who have been holding your breath, waiting for me to get some new hand dyed rovings into my dudleyspinner store,ARE YOU NUTS??? Please exhale now!
Boy howdy! I could feel the draft from here. relax, spin a little yarn, take your shoes off, let your hair down!
I added nine new rovings today.
Adrian
,
Advance
,
Albany
,
Anderson,
Archie, Arnold, Olivia, Dungiven.
I have been busy dying wool. I have come up with a few new colorways. A cool
Archie hand dyed
in blues and greens, photo above.
Hot and saucy
Arnold hand dyed roving
in reds, pinks and orange, photo below.
Have you ever wondered where these names come from?? Arnold, Archie, Dungiven, Olivia, Buncranna, Anderson???? Sometimes I get out a road atlas and start on a state, Arnold, Archie and Anderson are all towns in Missouri.
Dungiven, Buncranna are towns in Ireland.
Olivia is a little girl that I made socks and a hat for. She is a god daughter of my friends.
I tried thinking up names that describe the roving, like English Tea Garden. (This roving reminds me of a tea garden with lilacs and roses against a background of fern green yadda, yadda, yadda). It took too much effort to be creative each time and come up with a new description.
Now I just use a list of place names.
It is funny to have someone ask about a roving and use the name I have given it. It becomes an entity, something real, a soft and fluffy roving named Archie gets packed into a box and mailed to a place I may never see, but Archie will. He may become a skein of yarn, then socks or a hat. Or he may become a felted doll. I never know what a roving will become, which is part of what keeps me dying this wool. I just love getting to play with the colors, want to come play with me???
Ta,
Deb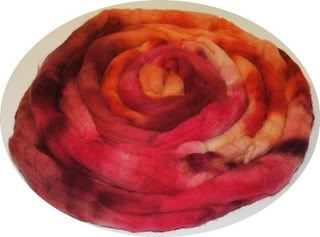 Hot and saucy
Arnold hand dyed roving
in reds, pinks and orange, photo above