Hand Dyed Roving, Do You Have an Accent?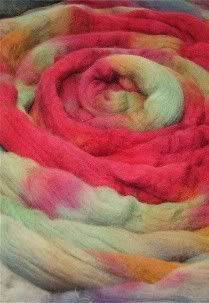 I listed this roving on my
Dudleyspinner
Tie Dye Roving store today. It is Acorn. It looks a bit Christmassy.
I got the latest batch of names for roving from this
list of fictional towns
Do you have an accent?
Take the quiz. I am a midwesterner, so my accent is pretty nonexistant. Maybe a slight drawl now that I have lived in Kansas for more than half my life after being in North East Indiana for the first 22 years. I like accents, I like to figure out where someone is from by the accent.
It appears that no one wants to join the MeMe. I can understand, with all the things we all have to do for the holidays who needs that on top of it right?
SO, I have decided to have a little contest.
Write a comment here, the subject is:
What is your favorite Christmas Memory.
(just substitute Holiday if you don't celebrate Christmas)
Leave a comment about your memory here.
Next Friday December 15, I will choose a winner of my favorite. You will get a surprize in the mail.
Deb