Hand Painted Roving, Aidensfield, Agrestic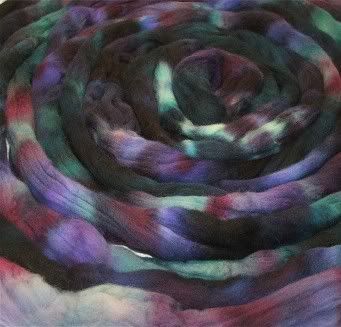 Agrestic is one of my latest
dudleyspinner hand dyed/painted combed top rovings.

I can spin! This past weekend I was visiting with some friends and I was talking about how not spinning is driving me crazy. Well whining actually.
One of my friends suggested I talk to an occupational therapist about how to do what I want to and incoroporate my excercises into the work.
I didn't get to talk to an OT about what to do, but I have been learning quite alot about which muscles do what and had Tara, my PT critique my spinning technique using a drop spindle and changing the direction I pull the wool. Instead of pulling towards my body, I changed the angle so it is aduction, away from the body at a 90 degree angle. It is awkward, but it is spinning! Much more fun than actually excercizing.
That old saying about necessity being the Mother of invention is really true.
These two roving are up for sale as soon as I can get them listed.
Deb