Hand Spun yarn, Needle Felted Pillow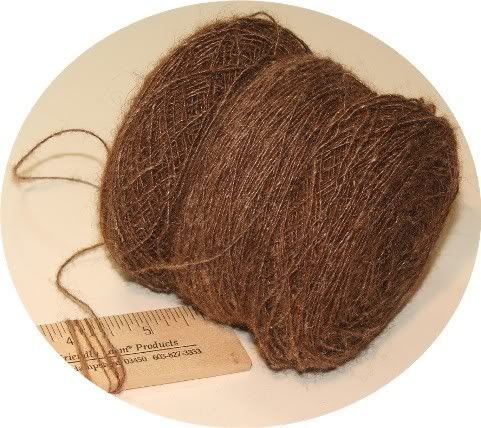 I spun this alpaca/silk to knit my Arctic Lace project. It is about 20 WPI. Since
no knitting is going to be done any time soon
I just want you to know, I do have the yarn spun at least!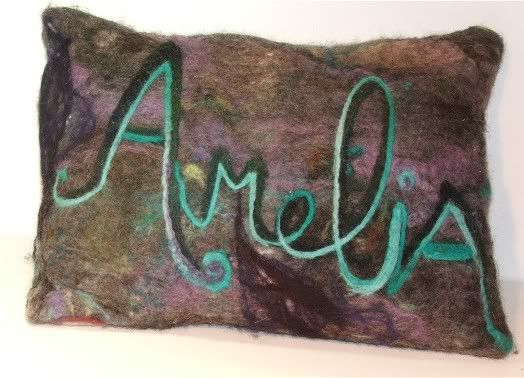 This is a felt pillow. It is about 14"x 8"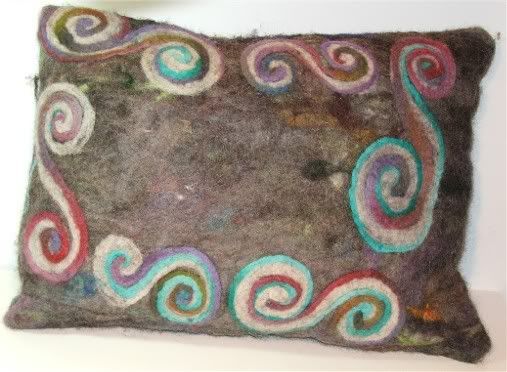 This is the back side. Amelia had seen some felt pillows in Hungary and wanted me to make one for her. She is doing
Mennonite Voluntary Service
in Washington, DC. Working as a Social Worker as a children's advocate in a housing for homeless project. She may be one of the few in Washington doing some good! Amelia is a fantastic young woman and I am proud to be the parent on one of the 'good ones'; making a difference in peoples lives. She possesses a Celtic sense of humor, that is so natural, that everyone enjoys her company.
I think she went into the field of social work with a clear mind, no pie in the sky, I can help everyone , distorted vision of the world. With that realistic view, she has a way of connecting to people that comes from a long line of strong minded women.
Peace loving advocacy. Her Great Grandmother Lydia Ewert who wrote many letters to editors promoting peace over the years. Her Grandmother Grace Ewert Brandt, who was a fantastic quilter, and raised thousands of dollars with her artistic quilts sold at MCC auctions to raise money for the disenfranchised over the world. And myself, Deb a fiber artist, who was arrested at the Wolf Creek nuclear Power Plant in protest of building a Nuclear Power plant on a geological fault near Burlington, Kansas.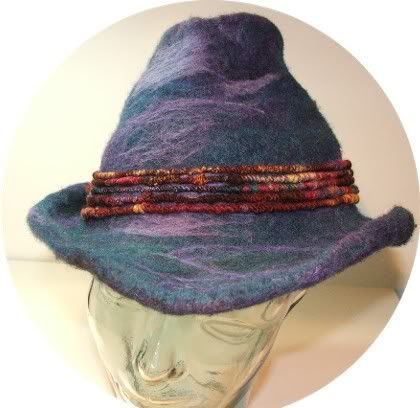 A Blue Hat needle felted hat by yours truly
Deb