ARIEL CITY from dudleyspinner hand dyed wool roving/combed top
Ariel City by
dudleyspinner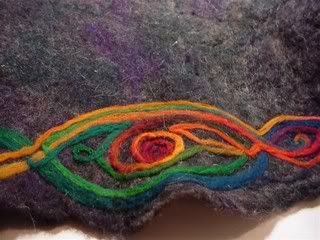 This is a needle felted banner that I have been working on. I use dudleyspinner roving to make the designs. They are celtic in flavor, but are really not an exact copy of anything. I just let the wool go where it wants to go and needle felt it in place. Some of this was done with my little needle felting machine. Some by hand.
The outside border is done, it needs the company logo on it next.
I like knitting socks with singles yarn.
This article is about a very old sock from the 16th century. It is knit with singles. I guess that proves it lasts a while!
What the Irish Wore
,
What the Irish Wore
The Carnamoyle Stockings — Irish Wool Stockings from the 16th Century
Abstract
In an effort to complete my 16th century Irish wardrobe, I undertook the study of a pair of stockings in the collection of the National Museum of Ireland. The Carnamoyle stockings are an extant pair of knitted wool stockings from County Donegal that are roughly contemporary with the Shinrone gown, of which I have made a replica. I handspun worsted yarn in a clockwise direction (Z-twist) on a wooden drop spindle and knit the stockings in the round on five #3 wooden needles.[end quote]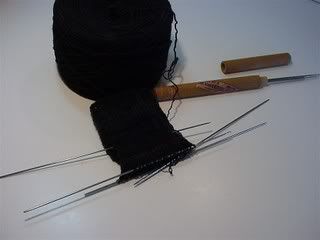 I cast on a pair of socks this morning. The yarn is a very dark handspun from
dudleyspinner
roving. It is black, with shades of green, purple, blue throughout. It is very subtle and really nice for socks. It is about 25 wraps per inch. It has enough color change to keep me interested without being too wild and crazy. The needles are Brittish size 14 steel knitting needles from Redditch UK. The needles are smaller than us size ones. I like them because they make a really firm fabric. I made socks with too large of needles and they wear out too fast.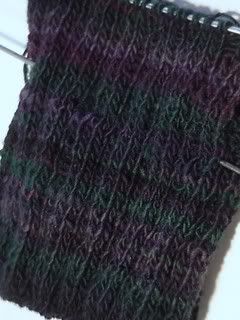 Here is a closeup of the socks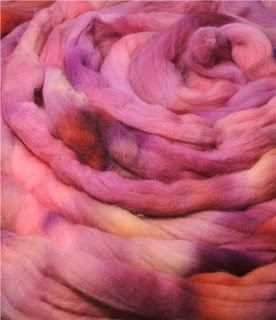 Ashton hand painted combed top/wool roving by
dudleyspinner
EVERYTHING IS 20% OFF GIVE EBAY THE BOOT SALE UNTIL JAN 15!
Deb