Needle Felted Crochet Hook with dudleyspinner hand painted wool roving/combed top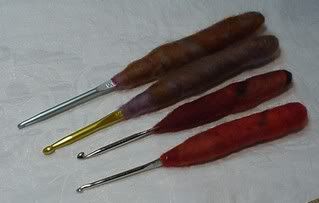 These crochet hooks have new little handles. I started by dipping the handle with elmers glue, then I wrapped some dudleyspinner roving around the handle. I left the size markings uncovered. After the wool is wrapped around I use a felting needle to needle felt the wool in place. A wet felting may be desired to get the handle as firm as you like. It will felt with use too, so it will continually get better.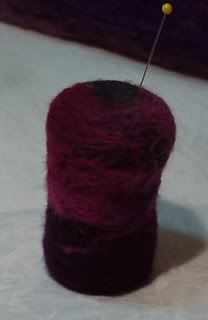 This little pin cushion started out as a candle holder, it was white and ugly. I needle felted the top with a mushroom shape fitting down into the candle holder part. That was glued into place. A new wrapping of wool covering the whole thing except the very bottom. I leave the bottom just wood so the pin cushion sets level and doesn't tip over. That wrapped wool was then needle felted into place.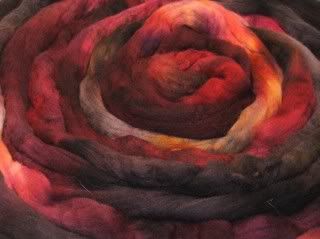 Angel Grove hand painted combed top/wool roving by
dudleyspinner
EVERYTHING IS 20% OFF GIVE EBAY THE BOOT SALE UNTIL JAN 15!