6 Weird Things About Me dudleyspinner hand dyed wool roving/combed top
Zann of
Lizards in the Leaves
tagged me for this MeMe
Six weird things about me
or
"When the going gets tough the weird turn pro"
quote by Hunter S. Thompson
6 Weird Things About Me Meme
THE RULES: Each player of this game starts with the "6 weird things about you.
People who get tagged must blog 6 weird about themselves as well as state this rule clearly. In the end, you need to choose 6 people to be tagged and list their names. Don't forget to leave a comment that says 'you are tagged' in their comments and tell them to read your blog.
1. I have a collection of Johnny Depp movies including most of the obscure ones, like The Brave,with Marlon Brando directed by Johnny Depp. Arizona Dream, Cry Baby which was a favorite when all the teenagers would want to watch a movie, it is hilariously funny.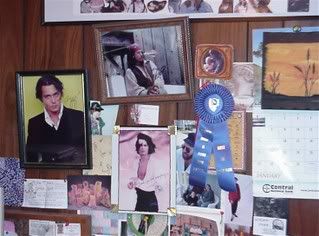 This is the wall next to my computer. The photos are signed, by somebody.
This poster is behind the door It is printed on a hand printing press that has the poster from the great emegration from Ireland. Derry is the port of call. I watched the woman at the Ulster-America Folk Park, Omagh print one of the posters.
This poster is on the door. It was a gift from my sister. He is just at eye level and larger than life.
2. I hate clothes. Clothes shopping is torture for me. Unless I happen to find something that I like I hate to go shop for any occasion. I need to go find some fancy dinner dresses I am going on a cruise, and am dreading it, not the cruise, just getting clothes.
3. I like to travel cheap. I will stay in a $25.00 a night motel off the beaten track and enjoy the experience. As long as it is clean I am happy.
4. I hitchhiked across Canada and the US in 1976. For the bicentennial my husband (boyfriend at the time) We went to Nova Scotia and then to Kansas and back to Indiana all in a few months time. The Olympics were in Montreal, we did not get to see any events because we didn't have tickets. So in 1996 when the Olympics were in Atlanta, GA Mike and I went to the Olympics. Along with our kids and my sister. My brother lives near Atlanta so it was a family affair.
5. I love living in the country. Cities intimidate me and I feel that there is always something to be cautious or aware of. I have visited a number of large cities and enjoy the experience, the culture, museums and music. But the country is where I feel happiest.
6. I have wool in my freezer. Most of you have some there yourself. Admit it. When I get new fiber I freeze it to ward off any moth possibilities.
As for tagging people, as Craig Ferguson would say "I can't live by your rules man!"
I say if you want to play along, consider yourself tagged!
Deb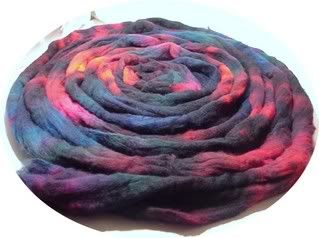 Liam hand painted combed top/wool roving by
dudleyspinner
EVERYTHING IS 20% OFF GIVE EBAY THE BOOT SALE UNTIL JAN 15!
Deb