Dudley! You Got Some Splainin' To DO -Dying Too~Handpainted Wool Roving/Combed Top by dudleyspinner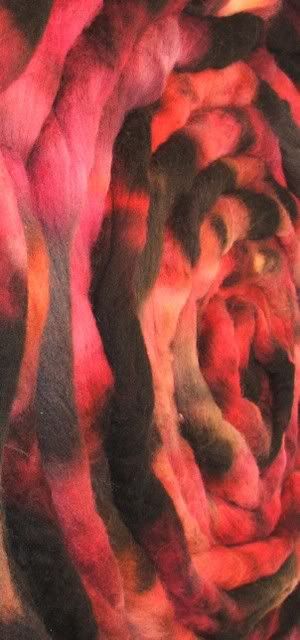 The latest dye run was a special order for
Medium Reality
. The Indy Car series. The flame paint job on a 59 Chevy to be exact. The yellow god was very fickle and I lost my big dishpan that I dye on the stove with. It was a granite pan and got a hole. I like dying with a white dishpan on the stove to get the best seperation of color because the dye strikes with more control by me. The substitute pan is smaller so I have less canvass to paint on.
CHECK IT OUT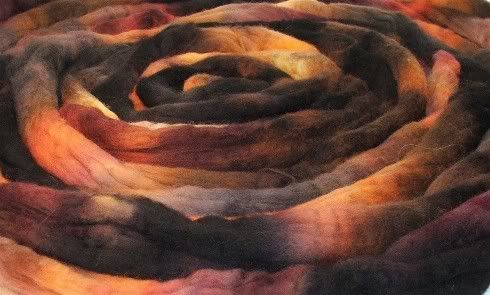 I just looked at where all my gentle readers are coming from. Germany, Puru, Austrailia, Croatia, Brazil and the USA. WOW that nearly spans the globe. Let me know where you are from.
CONTEST:
Leave a message in the comments telling me where you are from and how you found your way here. I will pick a random number and that person will recieve a dudleyspinner Tie Dye Roving, I will choose one and post it here as soon as it is dry.
The contest will run until May 25.
Deb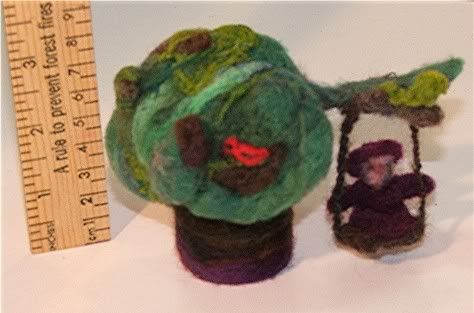 Needle felted pincushion
Canada,
New Zealand
Uk
Netherlands
France
Taiwan
Turkey
Sweden
Singapore,
Japan
Finland
Belgium
Denmark
India
Malaysia
Mexico
Portugal
China
Italy
Switerland
Austriala
Ireland
Poland
Chile
Hong Kong
Norway
Argentina
Philippines
Russian Federation
Saudi Arabia
Spain
Hungary
Israel
South Africa
Chech Rebublic
Iceland
Romania
Slovakia
Columbia
Ecuador
El Salvador
Estonia
Kazkhstan
Korea Republic
Kuwait
Malta
Oman
Sri Lanka
Thailand
Uganda
Ukraine
United Arab Emirates
Venezuela
Yemen
Labels: dyerun