YOU BOUGHT HOW MUCH??? Handpainted Combed Top/ Wool Roving by dudleyspinner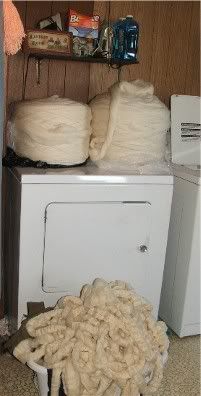 I went to the wool place the other day because I was out of the combed top roving that I dye.
I live in Kansas and the weather has been a little rough lately. What with the entire town of Greensburg being wiped out completely. There is flooding everywhere.
Driving in I crossed the Arkansas river which has gone crazy! It is nearly to the top of the levy on the side where the warehouse is! The flooding was on the other side of the river.
Something about devestation makes that wool seem very valuable and precious.
I was talking to Warren about the price of the merino and it has gone up two dollars a pound! So I panicked and got two bumps of wool instead of the one, I had been planning too buy.
When I got home I found a small bump of wool under the dying table that I didn't know I had! I thought I was completely out of white wool! This was about 5 pounds of roving, it is what is in the basket on the floor.
Let me explain how I could miss that much wool. We have been remodeling our bedroom for about 6 months, so I have no dresser or closet at the moment.
I have been using the laundry room for a dressing room too. So having a little bump of roving appear should not surprise me or you.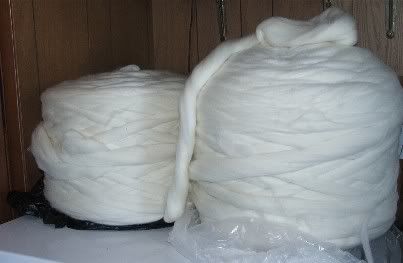 That is what 60 pounds of wool looks like my friends. I have the dye pots a cookin'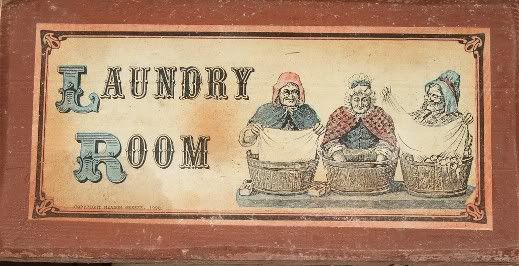 This is so I know where I am! Aren't they a hoot!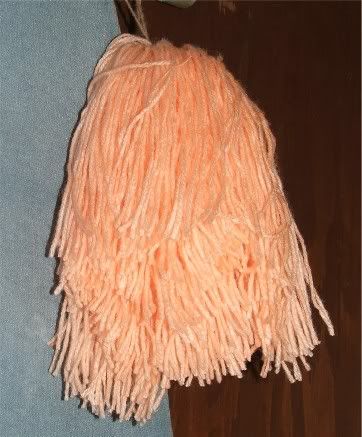 I am confessing that I have listened to very little of the Lime and Violet podcasts *hanging head in shame* I participate on the message board, but have only heard bits an pieces of the casts.
It takes 10 hours for a podcast to download on my turtle slow dialup. A strong gust of wind seems to mess with the connection and I have to start all over, so you can imagine what I time I have been having with thunderstorms nightly for the past few weeks.
I did hear the podcast about the rabid Huskers fans and this pompom could have been made for the knitting tailgate party.
Actually It is the acrylic yarn I use to tie the roving before dying. There is a use for acrylic I can get behind, four square!
Deb
Labels: lost and found, pom pom, remodeling, wool bumps